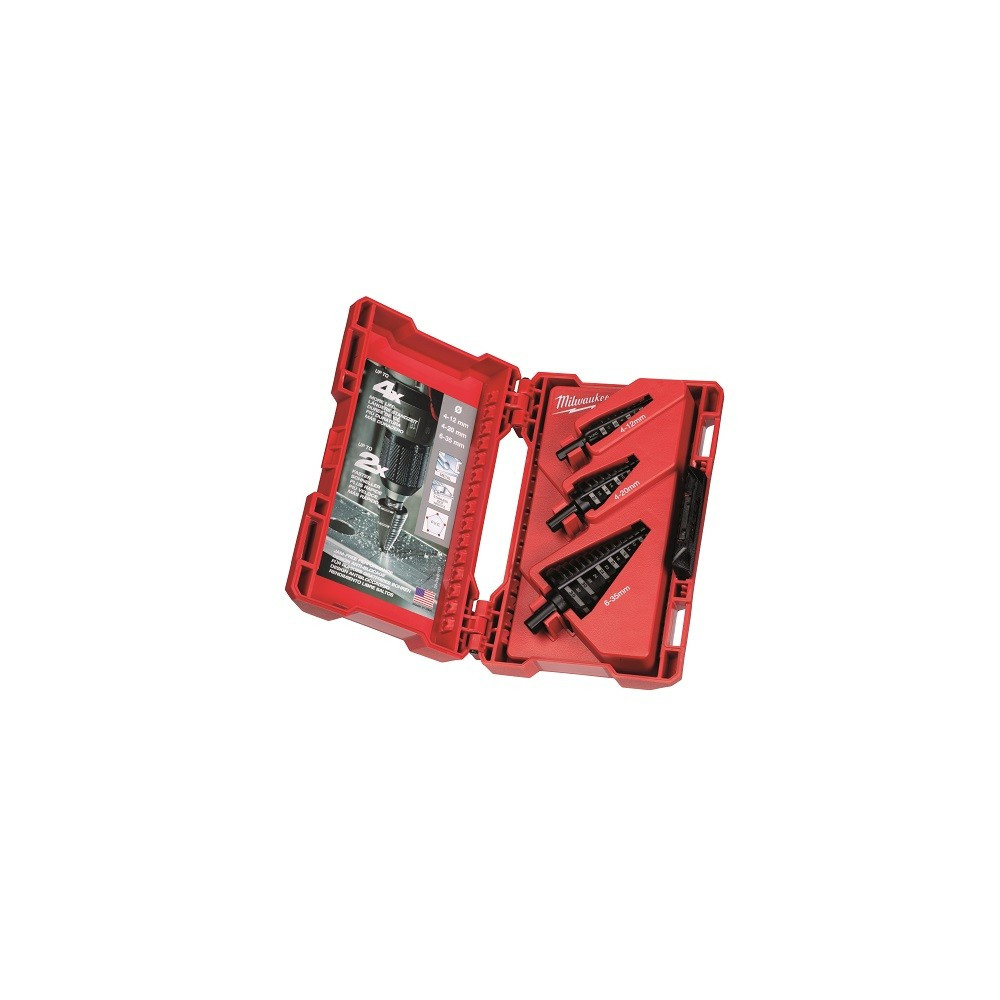  
Milwaukee 3 piece Milling cutters set
Reference: 48899399
The set includes 4 - 12 mm / 1˝, 4 - 20 mm, 6 - 35 mm milling cutters. Step drill bits will accurately drill the following materials: - iron sheet / no iron sheet, pipes. – copper, brass, aluminium. – stainless steel. - plastic. – max. material thickness 4 mm. – A lubricant or a refrigerant are widely recommend to ensure longer lifetime.

Pagamenti sicuri Paypal e Payplug

Consegna 1-2 giorni lavorativi

Diritto di recesso 14 giorni
Set Frese a Gradino 3pz
Include Frese a gradino 4 - 12 mm / 1˝, 4 - 20 mm, 6 - 35 mm
Le punte a gradino sono ideali per forare i seguenti materiali: - Lamierino ferrosi e non ferrosi, profili e tubi. - Rame, ottone e alluminio. - Acciaio inossidabile. - Plastica. - Lo spessore massimo del materiale 4 mm. - Per garantire la migliore durata si consiglia l'uso di un refrigerante/lubrificante.

Elettricisti: foratura di pannelli e scatole per l'installazione di passacavi. - Impianti idraulici / HVAC: fori di accesso per tubazioni e installazioni. - Carpentieri metallici: varie dimensioni e l'allargamento di fori. - Automotive: fori per l'installazione del cavo (telefoni cellulari, antenne, di re-indirizzamento cavi elettrici). - Manutentori: varie applicazioni con diverse diametri e allargamento del foro.

I maggiori vantaggi rispetto alla foratura con punte convenzionali sono: con una fresa si possono forare più dimensioni - Migliore per allargare fori esistenti. - Più durevole delle punte elicoidali. - Più preciso. - Fori più puliti . - Foratura in diversi tipi di plastica evitando le rotture.

Vantaggi Milwaukee

Incurvamento della superficie, foratura e rimozione delle sbavature tutto in un solo gesto.

Punta di centraggio per una migliore centratura, senza necessità di effettuare il preforo.

La geometria della punta permette di essere estremamente preciso nella foratura senza lasciare sbavature ed evitando i saltellamenti che potrebbero rovinare il materiale.

Geometria ottimizzata a 2 scanalature con bordo molto affilato che lo rende fino a 2 volte più veloce.

Prodotto in acciaio progettato su misura con rivestimento di ossidiana nera per una maggiore durata, fino a 4 volte maggiore rispetto rispetto alle classiche frese a gradino.

Ottimizzate per l'utilizzo con alte velocità degli utensili a batteria.

Diametri incisi al Laser per una migliore visibilità anche a lungo termine.

Elimina le sbavature automaticamente.

Massima tenuta del gambo sul mandrino per garantire la massima trasmissione di coppia.


related products
€319.02
Our previous price
Regular price
€359.00
Price
M 18 Percussion drill M18 BID Pulse driver 1/4 " Hex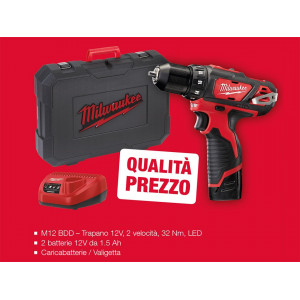 Our offer includes:
M18 BDD – 12V drill

2 Speed (0-400 | 0-1500)

30 Nm torque

1.2Kg weight

2 12V 2 Ah batteries

Battery charger, toolbag
6 other products in the same category: